My performance recording with Steevio inspired setup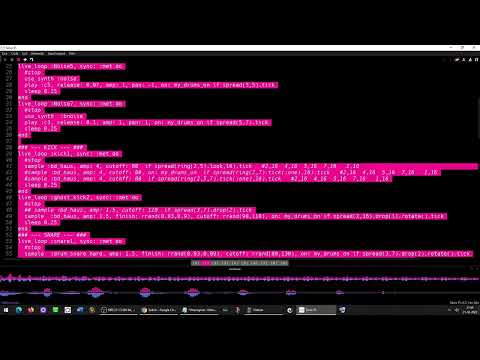 Can I create variation with use_random_seed on spread()?

How can I in fx spread(5,7) take a single of them and give another sound like Steevio does at Freeform Techno / Machine Jazz demo - Steevio - YouTube

How would you improve/optimize this code?

Are there any pattern in what numbers of use_random_seed fits together musically?
Kind regards
Relaxnow
# Inspired by - "Freeform Techno / Machine Jazz demo - Steevio"
# https://youtu.be/x6hJa2lRRgM?t=278

# https://sonic-pi.net/tutorial.html#section-8-5   #Available Chain Methods
# Backup 220221 - my performance recording https://youtu.be/0fc0IaIFn9Y

# 1) Can I create variation with use_random_seed on spread()?

# 2) How can I in fx spread(5,7) take a single of them and give another sound like Steevio does at https://youtu.be/x6hJa2lRRgM?t=278

# 3) How would you improve/optimize this code?

# 4) Are there any pattern in what numbers of use_random_seed fits together musically?

use_bpm 115

live_loop :met do
  sleep 1
end


my_drums_on = true #true/false
my_bass_on = false #true/false
my_fill_on = false #true/false


### drums start ###
### --- NOISE perc --- ###
live_loop :Noise5, sync: :met do
  # stop
  use_synth :noise
  play :c5, release: 0.07, amp: 1, pan: -1, on: my_drums_on if spread(3,5).tick
  sleep 0.25
end
live_loop :Noise7, sync: :met do
  #stop
  use_synth  :bnoise
  play :c3, release: 0.1, amp: 1, pan: 1, on: my_drums_on if spread(5,7).tick
  sleep 0.25
end

### --- KICK --- ###
live_loop :kick1, sync: :met do
  #stop
  sample :bd_haus, amp: 4, cutoff: 80  if spread(ring(2,5).look,16).tick   #2,16  4,16  5,16  7,16   1,16
  #sample :bd_haus, amp: 4, cutoff: 80, on: my_drums_on  if spread(ring(2,7).tick(:one),16).tick   #2,16  4,16  5,16  7,16   1,16
  #sample :bd_haus, amp: 4, cutoff: 80  if spread(ring(2,5,7).tick(:one),16).tick   #2,16  4,16  5,16  7,16   1,16
  sleep 0.25
end
live_loop :ghost_kick2, sync: :met do
  #stop
  ## sample :bd_haus, amp: 1.5, cutoff: 110  if spread(3,7).drop(2).tick
  sample  :bd_haus, amp: 1.5, finish: rrand(0.03,0.9), cutoff: rrand(90,110), on: my_drums_on if spread(2,16).drop(1).rotate().tick
  sleep 0.25
end
### --- SNARE --- ###
live_loop :snare1, sync: :met do
  #stop
  sample  :drum_snare_hard, amp: 1.5, finish: rrand(0.03,0.09), cutoff: rrand(80,130), on: my_drums_on if spread(3,7).drop(2).rotate().tick
  #sample  :drum_snare_hard, amp: 8, finish: rrand(0.03,0.09), cutoff: rrand(80,130) if spread(3,7).drop(2).rotate().tick
  #sample  :drum_snare_hard, amp: knit(1.5,2, 8,1).tick(:two), finish: rrand(0.03,0.09), cutoff: rrand(80,130) if spread(3,7).drop(2).rotate().tick
  sleep 0.25
end
### drums end ###


### --- BASS --- ###
my_use_random_seed = 20   #20 # 26    #20 #0  #200  400
my_offset = 0            #0  #0      #0  #0  #400
my_scale = :minor #_pentatonic
my_bass_synth = :prophet  #:sine #:dpulse #:dsaw #:prophet

live_loop :bass4, sync: :met do
  #stop
  use_synth my_bass_synth
  use_random_seed my_use_random_seed
  16.times do
    #play (scale :c3, my_scale).choose, amp: 4, release: 0.35, pan: 0.5, on: my_bass_on if spread(7,16).tick
    play (scale :c3, my_scale).choose, amp: 4, release: 0.35, pan: 0.5, on: my_bass_on if spread(6,16).tick   #offset spread(6,16) for more movement
    sleep 0.25
  end
end
live_loop :bass5, sync: :met do
  #stop
  use_synth my_bass_synth
  use_random_seed my_use_random_seed+my_offset
  16.times do
    play (scale :c4, my_scale).choose, amp: 4, release: 0.35, pan: -0.5, on: my_bass_on if spread(7,16).tick
    sleep 0.25
  end
end

### --- fill --- ###
live_loop :fill1, sync: :met do    #fill
  #stop
  use_synth :prophet #:chiplead #saw #:prophet #:fm
  play (octs :c4,3).tick, release: 0.5, amp: 2, pan: 0, cutoff: range(40,110,5).reflect.tick(:asd), on: my_fill_on if spread(5,7).drop(2).pick(1).tick
  sleep 0.25
end




#### sketches below ###



### --- not using these right now --- ###
live_loop :bass2, sync: :met do
  stop
  use_synth :prophet
  play :c5, amp: 4, release: 0.25 if spread(7,16).tick
  sleep 0.25
end
live_loop :bass3, sync: :met do
  stop
  use_synth :prophet
  play :c4, amp: 4, release: 0.35 if spread(5,16).tick
  sleep 0.25
end




### --- chords --- ### not using these right now
#my_chord_on = (knit true,4, false, 4).tick(:c)
my_chord_on = false #true
my_drop = 0                #0   #3
my_chord_spread_front = 3  #3   #7
my_chord_spread_back =  7  #7  #14

live_loop :chord1, sync: :met do
  use_synth :saw
  play (knit :f2,14, :g2,14).tick(:a),  release: 0.15, amp: 4, on: my_chord_on if spread(my_chord_spread_front,my_chord_spread_back).drop(my_drop).tick
  sleep 0.25
end
live_loop :chord2, sync: :met do
  use_synth :saw
  play (knit :f4,14, :g4,7, :as4,7).tick(:a),  release: 0.15, amp: 4, on: my_chord_on if spread(my_chord_spread_front,my_chord_spread_back).drop(my_drop).tick
  sleep 0.25
end
live_loop :chord3, sync: :met do
  use_synth :saw
  play (knit :c5,14, :d5,7, :f5,7).tick(:a),  release: 0.15, amp: 4, on: my_chord_on if spread(my_chord_spread_front,my_chord_spread_back).drop(my_drop).tick
  sleep 0.25
end