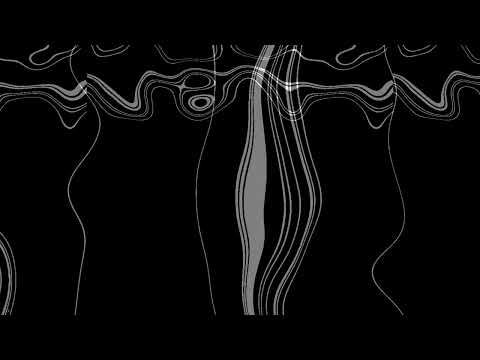 # 221101 2234 fast groove with hydra lines (with hydra links)
# 221101 2234 Saved
# Live performance https://youtu.be/n6ar_mPs_CI
# Created by https://linktr.ee/relaxnow
# # https://in-thread.sonic-pi.net/t/221101-2234-fast-groove-with-hydra-lines-with-hydra-links/7209



live_loop :time, delay: 0.01 do
  sleep 1
end


with_fx :level, amp: 2 do
  
  with_fx :reverb, room: 0.9 do
    live_loop :noise do
      use_synth  :cnoise
      c = range(80,110,step: 10).tick
      sleep 1
      play :c3, release: 0.5, amp: rrand(0.2,0.4), cutoff: c
      sleep 8
    end
  end
  
  live_loop :clicky, sync: :time do
    #stop
    tick
    a1 = range(0.1,2,step: 0.01).look
    a2 = [2,0,0,3,0].look
    sample :glitch_robot2, rate: 1+a1, finish: 0.01, amp: a1+a2, pan: range(-1,1,step: rrand(0.01,0.1)).mirror.look
    sleep 0.125
  end
  
  live_loop :kick, sync: :time do
    #    stop
    tick
    sample :bd_fat, amp: 2 if spread(1,16*2).look
    sample :bd_fat if spread(1,16/4).look
    sleep 0.125
  end
  
  
  live_loop :piano1, sync: :time do
    #stop
    tick
    
    / very minimal piano /
    r= 0.001
    r= 0.01
    r = rrand(0.001,0.01)     # nice
    #r = rrand(0.001,0.02)  # (opening up a little piano)
    #    r = rrand(0.001,0.05)     # (opening up piano)
    use_synth :piano
    pianonotes = :c2
    play pianonotes, release: r, pan: rrand(-1,1) if spread(rrand_i(2,7*2),16).look
    play pianonotes+12, release: r+r, pan: rrand(-1,1) if spread(rrand_i(2,7*2),16).look
    play pianonotes+12+12, release: r+r+r, pan: rrand(-1,1) if spread(rrand_i(2,7*2),16).look
    
    
    / bass /
    use_synth :fm
    fmnotes = [pianonotes+12]
    fmrep = 64
    fmnotes = knit(pianonotes+12,fmrep, pianonotes+12-2,fmrep)
    
    extranotes = 0
    play fmnotes.look+extranotes, release: rrand(0.1,0.4), cutoff: 85 if spread(rrand_i(2,7*2),16*2).look
    
    
    / chords /  # needs more work
    use_synth :beep #:dtri #:blade #:beep
    #play [:c5, :g5], release: rrand(0.04,0.08) if knit(spread(3,5).look,16, nil,16).look
    #play [:ds5, :as5], release: rrand(0.04,0.08) if knit(nil,16*4, spread(5,7).look,16, nil,16,  spread(5,7).look,16, nil,16).look
    
    
    sleep 0.125
  end
end



# Hydra code 1 Small squares
# https://hydra.ojack.xyz/?code=bGV0JTIwYSUyMCUzRCUyMDUwJTBBbGV0JTIwYiUyMCUzRCUyMDUwJTBBcmVuZGVyKG8xKSUwQSUwQXMwLmluaXRJbWFnZSglMjJodHRwcyUzQSUyRiUyRnVwbG9hZC53aWtpbWVkaWEub3JnJTJGd2lraXBlZGlhJTJGY29tbW9ucyUyRmUlMkZlMSUyRkZ1bGxNb29uMjAxMC5qcGclMjIpJTBBc3JjKHMwKS5yb3RhdGUoMCUyQzAuMDIpLm1hc2soc2hhcGUoOTklMkMxKSklMEEudGhyZXNoKDAuNiklMEEucGl4ZWxhdGUoYSUyQ2IpJTIwJTJGJTJGJTIwbG9kcmV0dGUlMjBzdHJlZ2VyJTBBLnNjcm9sbFgoMSUyQzAuMDEpJTBBJTJGJTJGLnBpeGVsYXRlKGIlMkNhKSUyMCUyRiUyRiUyMFZhbmRyZXR0ZSUyMHN0cmVnZXIlMEElMkYlMkYuc2Nyb2xsWSgxJTJDMC4wMSklMEEubHVtYSgwLjkpJTBBLnNjYWxlKCU1QjAuOCUyQzIlNUQuc21vb3RoKCkuZmFzdCgwLjEpJTJDOSUyRjE2KS5vdXQobzApJTBBJTBBczAuaW5pdEltYWdlKCUyMmh0dHBzJTNBJTJGJTJGdXBsb2FkLndpa2ltZWRpYS5vcmclMkZ3aWtpcGVkaWElMkZjb21tb25zJTJGZSUyRmUxJTJGRnVsbE1vb24yMDEwLmpwZyUyMiklMEFzcmMoczApLnJvdGF0ZSgwJTJDMC4wMikubWFzayhzaGFwZSg5OSUyQzEpKSUwQS50aHJlc2goMC42KSUwQSUyRiUyRi5waXhlbGF0ZShhJTJDYiklMjAlMkYlMkYlMjBsb2RyZXR0ZSUyMHN0cmVnZXIlMEElMkYlMkYuc2Nyb2xsWCgxJTJDMC4wMSklMEEucGl4ZWxhdGUoYiUyQ2EpJTIwJTJGJTJGJTIwVmFuZHJldHRlJTIwc3RyZWdlciUwQS5zY3JvbGxZKDElMkMwLjAxKSUwQS5sdW1hKDAuOSklMEEuc2NhbGUoJTVCMC44JTJDMiU1RC5zbW9vdGgoKS5mYXN0KDAuMSklMkM5JTJGMTYpLm91dChvMSklMEElMEFzcmMobzApLmJsZW5kKHNyYyhvMSkpLm91dChvMiklMEElMEFzb2xpZCgpLm91dChvMyklMEElMEE%3D

# Hydra code 2 Long squares
# https://hydra.ojack.xyz/?code=bGV0JTIwYSUyMCUzRCUyMDUwJTBBbGV0JTIwYiUyMCUzRCUyMDEwJTBBcmVuZGVyKG8yKSUwQSUwQXMwLmluaXRJbWFnZSglMjJodHRwcyUzQSUyRiUyRnVwbG9hZC53aWtpbWVkaWEub3JnJTJGd2lraXBlZGlhJTJGY29tbW9ucyUyRmUlMkZlMSUyRkZ1bGxNb29uMjAxMC5qcGclMjIpJTBBc3JjKHMwKS5yb3RhdGUoMCUyQzAuMDIpLm1hc2soc2hhcGUoOTklMkMxKSklMEEudGhyZXNoKDAuNiklMEEucGl4ZWxhdGUoYSUyQ2IpJTIwJTJGJTJGJTIwbG9kcmV0dGUlMjBzdHJlZ2VyJTBBLnNjcm9sbFgoMSUyQzAuMDEpJTBBJTJGJTJGLnBpeGVsYXRlKGIlMkNhKSUyMCUyRiUyRiUyMFZhbmRyZXR0ZSUyMHN0cmVnZXIlMEElMkYlMkYuc2Nyb2xsWSgxJTJDMC4wMSklMEEubHVtYSgwLjkpJTBBLnNjYWxlKCU1QjAuOCUyQzIlNUQuc21vb3RoKCkuZmFzdCgwLjEpJTJDOSUyRjE2KS5vdXQobzApJTBBJTBBczAuaW5pdEltYWdlKCUyMmh0dHBzJTNBJTJGJTJGdXBsb2FkLndpa2ltZWRpYS5vcmclMkZ3aWtpcGVkaWElMkZjb21tb25zJTJGZSUyRmUxJTJGRnVsbE1vb24yMDEwLmpwZyUyMiklMEFzcmMoczApLnJvdGF0ZSgwJTJDMC4wMikubWFzayhzaGFwZSg5OSUyQzEpKSUwQS50aHJlc2goMC42KSUwQSUyRiUyRi5waXhlbGF0ZShhJTJDYiklMjAlMkYlMkYlMjBsb2RyZXR0ZSUyMHN0cmVnZXIlMEElMkYlMkYuc2Nyb2xsWCgxJTJDMC4wMSklMEEucGl4ZWxhdGUoYiUyQ2EpJTIwJTJGJTJGJTIwVmFuZHJldHRlJTIwc3RyZWdlciUwQS5zY3JvbGxZKDElMkMwLjAxKSUwQS5sdW1hKDAuOSklMEEuc2NhbGUoJTVCMC44JTJDMiU1RC5zbW9vdGgoKS5mYXN0KDAuMSklMkM5JTJGMTYpLm91dChvMSklMEElMEFzcmMobzApLmJsZW5kKHNyYyhvMSkpLm91dChvMiklMEElMEFzb2xpZCgpLm91dChvMyklMEElMEE%3D


# Hydra code 3 horisontal lines
# https://hydra.ojack.xyz/?code=bGV0JTIwYSUyMCUzRCUyMDMwMCUwQWxldCUyMGIlMjAlM0QlMjAxJTBBcmVuZGVyKG8xKSUwQSUwQXMwLmluaXRJbWFnZSglMjJodHRwcyUzQSUyRiUyRnVwbG9hZC53aWtpbWVkaWEub3JnJTJGd2lraXBlZGlhJTJGY29tbW9ucyUyRmUlMkZlMSUyRkZ1bGxNb29uMjAxMC5qcGclMjIpJTBBc3JjKHMwKS5yb3RhdGUoMCUyQzAuMDIpLm1hc2soc2hhcGUoOTklMkMxKSklMEEudGhyZXNoKDAuNiklMEEucGl4ZWxhdGUoYSUyQ2IpJTIwJTJGJTJGJTIwbG9kcmV0dGUlMjBzdHJlZ2VyJTBBLnNjcm9sbFgoMSUyQzAuMDEpJTBBJTJGJTJGLnBpeGVsYXRlKGIlMkNhKSUyMCUyRiUyRiUyMFZhbmRyZXR0ZSUyMHN0cmVnZXIlMEElMkYlMkYuc2Nyb2xsWSgxJTJDMC4wMSklMEEubHVtYSgwLjkpJTBBLnNjYWxlKCU1QjAuOCUyQzIlNUQuc21vb3RoKCkuZmFzdCgwLjEpJTJDOSUyRjE2KS5vdXQobzApJTBBJTBBczAuaW5pdEltYWdlKCUyMmh0dHBzJTNBJTJGJTJGdXBsb2FkLndpa2ltZWRpYS5vcmclMkZ3aWtpcGVkaWElMkZjb21tb25zJTJGZSUyRmUxJTJGRnVsbE1vb24yMDEwLmpwZyUyMiklMEFzcmMoczApLnJvdGF0ZSgwJTJDMC4wMikubWFzayhzaGFwZSg5OSUyQzEpKSUwQS50aHJlc2goMC42KSUwQSUyRiUyRi5waXhlbGF0ZShhJTJDYiklMjAlMkYlMkYlMjBsb2RyZXR0ZSUyMHN0cmVnZXIlMEElMkYlMkYuc2Nyb2xsWCgxJTJDMC4wMSklMEEucGl4ZWxhdGUoYiUyQ2EpJTIwJTJGJTJGJTIwVmFuZHJldHRlJTIwc3RyZWdlciUwQS5zY3JvbGxZKDElMkMwLjAxKSUwQS5sdW1hKDAuOSklMEEuc2NhbGUoJTVCMC44JTJDMiU1RC5zbW9vdGgoKS5mYXN0KDAuMSklMkM5JTJGMTYpLm91dChvMSklMEElMEFzcmMobzApLmJsZW5kKHNyYyhvMSkpLm91dChvMiklMEElMEFzb2xpZCgpLm91dChvMyklMEElMEE%3D

# Hydra code 4 Vertical lines
# https://hydra.ojack.xyz/?code=bGV0JTIwYSUyMCUzRCUyMDMwMCUwQWxldCUyMGIlMjAlM0QlMjAxJTBBcmVuZGVyKG8wKSUwQSUwQXMwLmluaXRJbWFnZSglMjJodHRwcyUzQSUyRiUyRnVwbG9hZC53aWtpbWVkaWEub3JnJTJGd2lraXBlZGlhJTJGY29tbW9ucyUyRmUlMkZlMSUyRkZ1bGxNb29uMjAxMC5qcGclMjIpJTBBc3JjKHMwKS5yb3RhdGUoMCUyQzAuMDIpLm1hc2soc2hhcGUoOTklMkMxKSklMEEudGhyZXNoKDAuNiklMEEucGl4ZWxhdGUoYSUyQ2IpJTIwJTJGJTJGJTIwbG9kcmV0dGUlMjBzdHJlZ2VyJTBBLnNjcm9sbFgoMSUyQzAuMDEpJTBBJTJGJTJGLnBpeGVsYXRlKGIlMkNhKSUyMCUyRiUyRiUyMFZhbmRyZXR0ZSUyMHN0cmVnZXIlMEElMkYlMkYuc2Nyb2xsWSgxJTJDMC4wMSklMEEubHVtYSgwLjkpJTBBLnNjYWxlKCU1QjAuOCUyQzIlNUQuc21vb3RoKCkuZmFzdCgwLjEpJTJDOSUyRjE2KS5vdXQobzApJTBBJTBBczAuaW5pdEltYWdlKCUyMmh0dHBzJTNBJTJGJTJGdXBsb2FkLndpa2ltZWRpYS5vcmclMkZ3aWtpcGVkaWElMkZjb21tb25zJTJGZSUyRmUxJTJGRnVsbE1vb24yMDEwLmpwZyUyMiklMEFzcmMoczApLnJvdGF0ZSgwJTJDMC4wMikubWFzayhzaGFwZSg5OSUyQzEpKSUwQS50aHJlc2goMC42KSUwQSUyRiUyRi5waXhlbGF0ZShhJTJDYiklMjAlMkYlMkYlMjBsb2RyZXR0ZSUyMHN0cmVnZXIlMEElMkYlMkYuc2Nyb2xsWCgxJTJDMC4wMSklMEEucGl4ZWxhdGUoYiUyQ2EpJTIwJTJGJTJGJTIwVmFuZHJldHRlJTIwc3RyZWdlciUwQS5zY3JvbGxZKDElMkMwLjAxKSUwQS5sdW1hKDAuOSklMEEuc2NhbGUoJTVCMC44JTJDMiU1RC5zbW9vdGgoKS5mYXN0KDAuMSklMkM5JTJGMTYpLm91dChvMSklMEElMEFzcmMobzApLmJsZW5kKHNyYyhvMSkpLm91dChvMiklMEElMEFzb2xpZCgpLm91dChvMyklMEElMEE%3D

# Hydra code 5 vertical and horisontal lines
# https://hydra.ojack.xyz/?code=czAuaW5pdEltYWdlKCUyMmh0dHBzJTNBJTJGJTJGdXBsb2FkLndpa2ltZWRpYS5vcmclMkZ3aWtpcGVkaWElMkZjb21tb25zJTJGZSUyRmUxJTJGRnVsbE1vb24yMDEwLmpwZyUyMiklMEFzcmMoczApLnJvdGF0ZSgwJTJDMC4wMikubWFzayhzaGFwZSg5OSUyQzEpKSUwQS50aHJlc2goMC42KSUwQS5waXhlbGF0ZSgzMDAlMkMxKSUyMCUyRiUyRiUyMGxvZHJldHRlJTIwc3RyZWdlciUwQS5zY3JvbGxYKDElMkMwLjAxKSUwQSUyRiUyRi5waXhlbGF0ZSgxJTJDMzAwKSUyMCUyRiUyRiUyMFZhbmRyZXR0ZSUyMHN0cmVnZXIlMEElMkYlMkYuc2Nyb2xsWSgxJTJDMC4wMSklMEEubHVtYSgwLjkpJTBBLnNjYWxlKCU1QjAuOCUyQzIlNUQuc21vb3RoKCkuZmFzdCgwLjEpJTJDOSUyRjE2KS5vdXQobzApJTBBJTBBczAuaW5pdEltYWdlKCUyMmh0dHBzJTNBJTJGJTJGdXBsb2FkLndpa2ltZWRpYS5vcmclMkZ3aWtpcGVkaWElMkZjb21tb25zJTJGZSUyRmUxJTJGRnVsbE1vb24yMDEwLmpwZyUyMiklMEFzcmMoczApLnJvdGF0ZSgwJTJDMC4wMikubWFzayhzaGFwZSg5OSUyQzEpKSUwQS50aHJlc2goMC42KSUwQSUyRiUyRi5waXhlbGF0ZSgzMDAlMkMxKSUyMCUyRiUyRiUyMGxvZHJldHRlJTIwc3RyZWdlciUwQSUyRiUyRi5zY3JvbGxYKDElMkMwLjAxKSUwQS5waXhlbGF0ZSgxJTJDMzAwKSUyMCUyRiUyRiUyMFZhbmRyZXR0ZSUyMHN0cmVnZXIlMEEuc2Nyb2xsWSgxJTJDMC4wMSklMEEubHVtYSgwLjkpJTBBLnNjYWxlKCU1QjAuOCUyQzIlNUQuc21vb3RoKCkuZmFzdCgwLjEpJTJDOSUyRjE2KS5vdXQobzEpJTBBJTBBc3JjKG8wKS5ibGVuZChzcmMobzEpKS5vdXQobzIpJTBBJTBBcmVuZGVyKG8yKSUwQQ%3D%3D

# Hydra code 6 modulate on horisontal lines
# https://hydra.ojack.xyz/?code=czAuaW5pdEltYWdlKCUyMmh0dHBzJTNBJTJGJTJGdXBsb2FkLndpa2ltZWRpYS5vcmclMkZ3aWtpcGVkaWElMkZjb21tb25zJTJGZSUyRmUxJTJGRnVsbE1vb24yMDEwLmpwZyUyMiklMEFzcmMoczApLnJvdGF0ZSgwJTJDMC4wMikubWFzayhzaGFwZSg5OSUyQzEpKSUwQS50aHJlc2goMC42KSUwQS5waXhlbGF0ZSgzMDAlMkMxKSUyMCUyRiUyRiUyMGxvZHJldHRlJTIwc3RyZWdlciUwQS5zY3JvbGxYKDElMkMwLjAxKSUwQSUyRiUyRi5waXhlbGF0ZSgxJTJDMzAwKSUyMCUyRiUyRiUyMFZhbmRyZXR0ZSUyMHN0cmVnZXIlMEElMkYlMkYuc2Nyb2xsWSgxJTJDMC4wMSklMEEubHVtYSgwLjkpJTBBLm1vZHVsYXRlKG5vaXNlKDIlMkMwLjI1JTJDMSkpJTBBJTIwJTIwLnNjYWxlKCU1QjAuOCUyQzIlNUQuc21vb3RoKCkuZmFzdCgwLjEpJTJDOSUyRjE2KS5vdXQobzApJTBBJTBBczAuaW5pdEltYWdlKCUyMmh0dHBzJTNBJTJGJTJGdXBsb2FkLndpa2ltZWRpYS5vcmclMkZ3aWtpcGVkaWElMkZjb21tb25zJTJGZSUyRmUxJTJGRnVsbE1vb24yMDEwLmpwZyUyMiklMEFzcmMoczApLnJvdGF0ZSgwJTJDMC4wMikubWFzayhzaGFwZSg5OSUyQzEpKSUwQS50aHJlc2goMC42KSUwQSUyRiUyRi5waXhlbGF0ZSgzMDAlMkMxKSUyMCUyRiUyRiUyMGxvZHJldHRlJTIwc3RyZWdlciUwQSUyRiUyRi5zY3JvbGxYKDElMkMwLjAxKSUwQS5waXhlbGF0ZSgxJTJDMzAwKSUyMCUyRiUyRiUyMFZhbmRyZXR0ZSUyMHN0cmVnZXIlMEElMkYlMkYubW9kdWxhdGUobm9pc2UoNSUyQzAuMjUlMkMxKSklMEEuc2Nyb2xsWSgxJTJDMC4wMSklMEEubHVtYSgwLjkpJTBBLnNjYWxlKCU1QjAuOCUyQzIlNUQuc21vb3RoKCkuZmFzdCgwLjEpJTJDOSUyRjE2KS5vdXQobzEpJTBBJTBBc3JjKG8wKS5ibGVuZChzcmMobzEpKS5vdXQobzIpJTBBJTBBcmVuZGVyKG8yKSUwQQ%3D%3D

# Hydra code 7 modulate on both vertical and horisontal lines
# https://hydra.ojack.xyz/?code=czAuaW5pdEltYWdlKCUyMmh0dHBzJTNBJTJGJTJGdXBsb2FkLndpa2ltZWRpYS5vcmclMkZ3aWtpcGVkaWElMkZjb21tb25zJTJGZSUyRmUxJTJGRnVsbE1vb24yMDEwLmpwZyUyMiklMEFzcmMoczApLnJvdGF0ZSgwJTJDMC4wMikubWFzayhzaGFwZSg5OSUyQzEpKSUwQS50aHJlc2goMC42KSUwQS5waXhlbGF0ZSgzMDAlMkMxKSUyMCUyRiUyRiUyMGxvZHJldHRlJTIwc3RyZWdlciUwQS5zY3JvbGxYKDElMkMwLjAxKSUwQSUyRiUyRi5waXhlbGF0ZSgxJTJDMzAwKSUyMCUyRiUyRiUyMFZhbmRyZXR0ZSUyMHN0cmVnZXIlMEElMkYlMkYuc2Nyb2xsWSgxJTJDMC4wMSklMEEubHVtYSgwLjkpJTBBLm1vZHVsYXRlKG5vaXNlKDIlMkMwLjI1JTJDMSkpJTBBJTIwJTIwLnNjYWxlKCU1QjAuOCUyQzIlNUQuc21vb3RoKCkuZmFzdCgwLjEpJTJDOSUyRjE2KS5vdXQobzApJTBBJTBBczAuaW5pdEltYWdlKCUyMmh0dHBzJTNBJTJGJTJGdXBsb2FkLndpa2ltZWRpYS5vcmclMkZ3aWtpcGVkaWElMkZjb21tb25zJTJGZSUyRmUxJTJGRnVsbE1vb24yMDEwLmpwZyUyMiklMEFzcmMoczApLnJvdGF0ZSgwJTJDMC4wMikubWFzayhzaGFwZSg5OSUyQzEpKSUwQS50aHJlc2goMC42KSUwQSUyRiUyRi5waXhlbGF0ZSgzMDAlMkMxKSUyMCUyRiUyRiUyMGxvZHJldHRlJTIwc3RyZWdlciUwQSUyRiUyRi5zY3JvbGxYKDElMkMwLjAxKSUwQS5waXhlbGF0ZSgxJTJDMzAwKSUyMCUyRiUyRiUyMFZhbmRyZXR0ZSUyMHN0cmVnZXIlMEEubW9kdWxhdGUobm9pc2UoNSUyQzAuMjUlMkMxKSklMEEuc2Nyb2xsWSgxJTJDMC4wMSklMEEubHVtYSgwLjkpJTBBLnNjYWxlKCU1QjAuOCUyQzIlNUQuc21vb3RoKCkuZmFzdCgwLjEpJTJDOSUyRjE2KS5vdXQobzEpJTBBJTBBc3JjKG8wKS5ibGVuZChzcmMobzEpKS5vdXQobzIpJTBBJTBBcmVuZGVyKG8yKSUwQQ%3D%3D


To record the hydra code I have opened a TAB in Chrome for each code and switch between them by pressing CTRL+1 to CTRL+7
Another way is using FLOK (from faq in hydra discord)

"1. Use Flok:
Open https://flok.clic.cf/ and create a session with hydra as a target.
Now that you have your own Hydra session, with its own URL (it automatically changes on your browser's nav bar), open it in one more tab.
Enter the session in both tabs. You can disable Hydra on one of them if you want to (this would also lower resource demand).
On one of your tabs, press "Ctrl+Shift+H" to hide the code.
Now you can code on one tab and commands will also run on the other tab!"