A new instrument interface for Sonc Pi using a TouchOSC interface.

An 8×8 matrix of push buttons which provide note input.

Keyboard layout similar to Ableton Push2, which makes it easier to input tunes. (More detail later)

The ability to choose keys C,D,E,F,G,A and B major and minor.

A choice of two percussive synths (piano and pluck)

The ability to record in real time the note input, the key input and the synth selection, which can then all be replaced.

When playing back a choice of three tempo settings is available. Slow Medium and Fast. Paying back at Slow plays back at the same rate as the recording was made.

The inclusion of a metronome, which can be switched on or off and set to two different rates. This aids the accurate placement of notes when entering them in real time during a recording.

Using a second "page" of TouchOSC the ability to save and retrieve up to 20 different recordings.The screen gives an indication of which slots are filled, and which slot is currently loaded.

A further feature is that you can play back a recording AND play a second part at the same time. Thus you could play a two part round, or add a harmony part to a tune. Although the program itself cannot record the result, because it is all played by Sonic Pi, you can use the built in audio recorder to record the resultant audio.

During playback you can switch off the LEDs from illuminating the keys as the notes play. This gives both a decreased load on the program, and is less confusing if you are trying to play a second part at the same time.
Full article is at
Link to video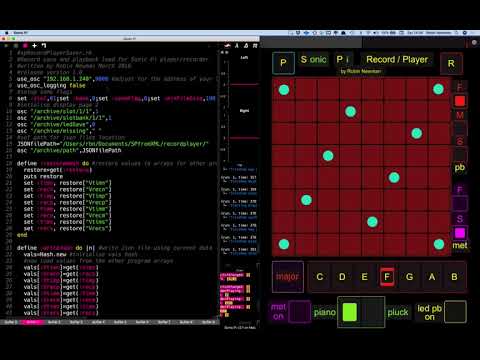 Link to the code